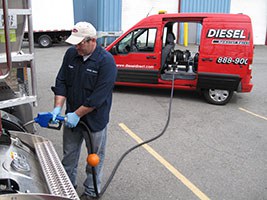 Diesel Exhaust Fluid, also known as Urea, seems like a simple enough product: a combination of pure ammonia and deionized water. Despite this, things are not always what they seem, and there are critical factors that are important to consider in choosing the best Diesel Exhaust Fluid.
In thinking about fuel quality standards, it is important that the DEF in your DEF tanks meets specific requirements. For example, the DEF we supply to customers is a high quality product that is free of the human carcinogen Formaldehyde. Additionally it meets strict quality requirements and is approved by the American Petroleum Institute and complies with the international standard ISO 22241.
Another aspect you should know is that DEF is a sensitive product that can be easily contaminated when passed through several points of contact. What differentiates our DEF delivery system from others, is that our DEF is provided in a completely sealed system. Our secure DEF Direct service ensures the DEF we deliver to you is pumped directly into your truck and equipment tanks. It also means that the jugs, totes & drums that we provide are designed to be pumped directly into your truck without having to be transported into a separate container.
Amanda Cola, Diesel Direct's DEF Quality Manager explains "We understand that not all DEF is the same and we know the importance of providing our customers with a safe, Formaldehyde free DEF that meets the highest standards."
Contact us today to find out more about why our DEF is different and why our DEF Direct Service will provide you DEF at a lower cost and a guarantee of service and safety.