Diesel Direct customers greatly benefit from the reliability of mobile fueling services for their truck fleet and company equipment. With all of their machines, equipment, or vehicles running at maximum capacity for hours at a time, it is not unusual to burn through a large amount of fuel. Do you ever find your business requiring additional fuel in between your regularly scheduled Diesel Direct visits? If so, fuel storage tanks would be the ideal option for you!
Having an on-site tank allows you to have your own fuel source. Running out of fuel will no longer be an issue because you will have fuel at your fingertips-when and where you need it! You can have a piece of Diesel Direct at your job site. We provide and fill your fuel storage tank in the safest and most efficient way possible.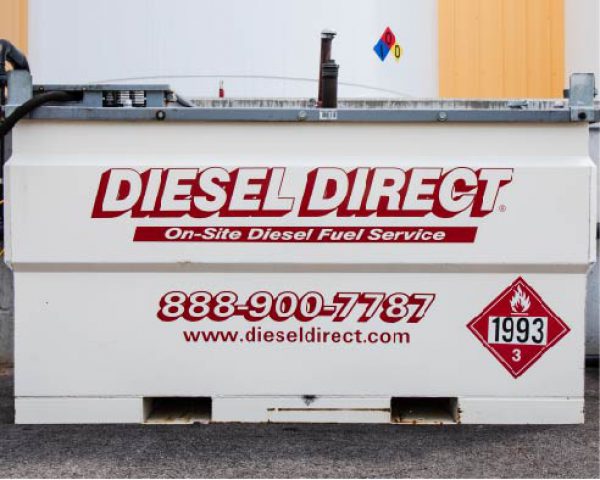 Tank features include:
Sturdy, double walled steel structure
Built in pump and meter
Portable and durable
110% containment capacity
Optional state of the art monitoring technology
This is just the beginning of the features and benefits of our fuel storage tanks. Our tanks are not just convenient, but versatile as well. We can custom design tanks to support your specific needs. Do you want a secure and permanent tank? We have it! Do you want a gasoline tank trailer? We have it! Do you want an environmentally friendly solar powered tank? We even have that!
Our tanks have proven to be an excellent fuel storing solution for many of our mobile fueling customers, saving them both time and money. So do not wait, let Diesel Direct take care of all your fuel storage tank or skid tank needs today! Contact us to see how you can get your own specialty tank at your job site or visit our website to learn more. You can tank us later!