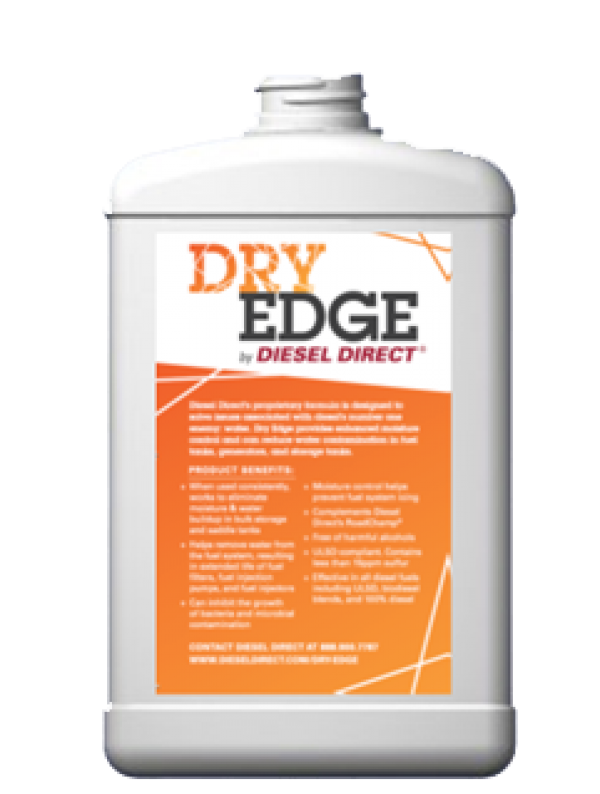 With spring officially here, we can finally say hello to warmer weather! About time, right? Well, even though we love the warm weather, it can cause lots of problems for trucks. As the temperature increase, diesel fuel's number one enemy arrives in full force. Fuel's number one enemy is moisture, so you could say that April showers bring diesel fuel problems. This is where Diesel Direct comes to the rescue! We are excited to announce our new product, Dry Edge ™. There are also many other product benefits. Some benefits of utilizing Dry Edge are:
When used consistently, works to eliminate moisture and water buildup in bulk storage and saddle tanks
Helps remove water from the fuel system, resulting in extended life of fuel filters, fuel injection pumps, and fuel injectors
Can inhibit the growth of bacteria and microbial contamination
Helps prevent fuel system icing by providing moisture control
Dry Edge complements Diesel Direct's RoadChamp®, is free of harmful alcohols, and is effective in all diesel fuels including ULSD, biodiesel blends, and 100% diesel.
The long awaited spring weather is here, so let's prepare! Get a head start and order a bottle of Dry Edge today. We offer it in gallon and quart sizes. Contact Diesel Direct to learn how Dry Edge can complement your fuel this spring or to place an order for your very own supply.