Fuel is a sensitive product that requires special care. Refined fuels, such as diesel and gasoline, have a limited lifespan and can easily degrade over time. What can you do to avoid problems that may arise from improper fuel care? Diesel Direct has our very own line of additives that work hand-in-hand with diesel fuel! As another season is winding down, our additives are designed to protect fuel no matter the temperatures we may face. Our additive collection is compiled of the following:
This is our proprietary formula designed to clean, stabilize, and provide cold weather protection for diesel fuel stored in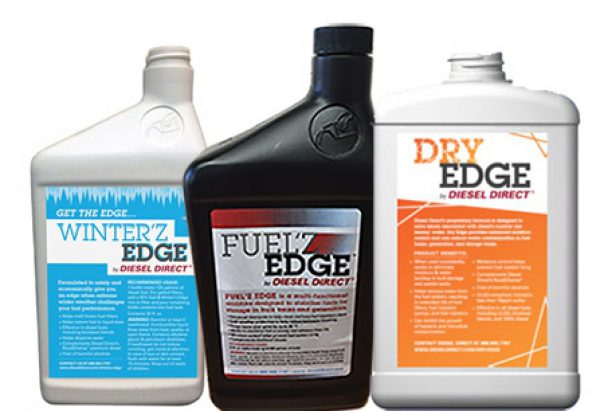 fuel tanks of all sizes ranging from large bulk tanks to small skid tanks and generator tanks.
This product is our proprietary diesel fuel emergency treatment designed to give you an edge when extreme winter weather challenges your fuel performance. It can help melt frozen fuel filters, restore fuel to liquid state, disperse water, and is effective in all diesel fuels including biodiesel blends.
Dry Edge is designed to solve issues caused by water. This additive provides enhanced moisture control and can reduce water contamination in fuel tanks, generators, and storage tanks. It is designed to complement Diesel Direct's RoadChamp premium diesel or other diesel fuels.
Along with the many product benefits listed above, all three additives are environmentally safe and alcohol free! Our additives conveniently come in gallon or quart sized bottles that can easily be added to diesel fuel. Adding Fuel'z Edge, Winter'z Edge, or Dry Edge into the fuel is simple, but should you have any questions, Diesel Direct professionals are happy to assist you. Contact us to learn more or to order your very own bottle today!