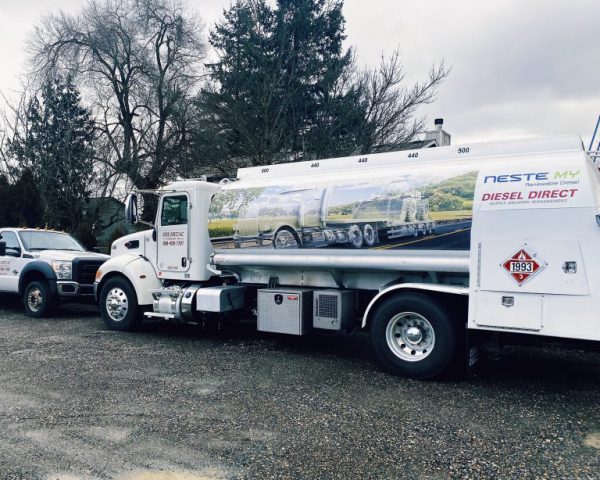 As the nation's largest on-site mobile fueling company, we are excited to announce the opening of a new branch in Portland, Oregon. This is particularly exciting as we can now expand our offering of Neste MY Renewable Diesel in Oregon! Diesel Direct is strongly committed to sustainable energy solutions. We take pride in providing the safest, most environmentally friendly fuels possible in the most energy efficient way.
Renewable diesel is premium quality, high-cetane fuel that is colorless, odorless, and cleaner-burning. It is produced from 100% renewable and sustainable raw materials and is processed very similarly to the way petroleum diesel is produced. Free from aromatics and sulfur, making this a drop in replacement for fossil diesel with up to 80% reduction in emissions.
Some benefits of using renewable diesel:
Burns clean and works like traditional diesel – same power but cleaner air
Made ready to perform in the cold, even arctic conditions with a cloud -4°F (-20°C
Works with existing infrastructure, no modification to equipment is required to switch from traditional diesel
Reduces soot build-up in Diesel Particulate Filters
Decreases the amount of greenhouse gas emitted
Sourced from wastes, residues and various vegetable oils
We are looking forward to extending our renewable diesel option to customers in Oregon. Connect with our fuel professionals today to learn more about how we can help reduce your environmental impact using renewable diesel.