Diesel Direct's Employee Spotlight is a peer-to-peer recognition program that enables our team to acknowledge their coworkers that they feel exemplify our core values everyday by demonstrating qualities such as positive attitude, resourcefulness, excellent customer service, etc.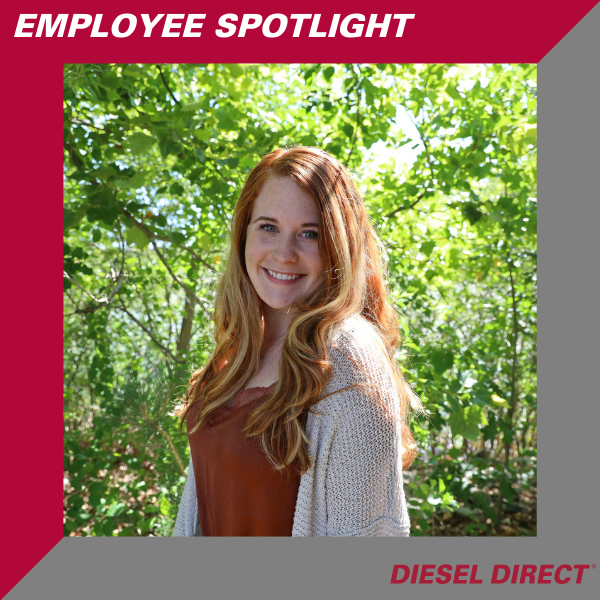 Shannon Trahon is an all-around team player. Her willingness to do any job to support our customers, sales department, and employees speaks volume as to who she is as a person. Shannon shows up with unmatched team spirit and a positive attitude every single day. She has exceptional dedication to making sure each customer call is given the attention it deserves by providing the optimal Diesel Direct experience. Anyone who has spent time getting to know Shannon can attest that she is nothing short of cheerful, hardworking and exceptionally reliable.
What is your role in the company?
Administrative Coordinator – I'm part of the Admin Support Team. In addition, I help with a variety of projects lead by different departments and assist our Executive Team.
How long have you worked at Diesel Direct?
A year and a half.
What does a typical work day look like for you?
There is no truly typical day. My role, while it has some repeated daily tasks, is more project-driven, so it's interesting to gain exposure to what each team does. However, to describe what a typical day would look like: I check my email boxes first and handle anything urgent first. Next, I'll look at leads that have come in overnight and make sure they are assigned. I answer inbound Customer Service calls, and sales emails, throughout the day and put focus on other projects that other teams or executives need support with.
What is your favorite part about working at Diesel Direct?
I love that I can go into work and not live the same day over and over again. Yes, I have a lot of daily tasks and responsibilities, but on top of those I am constantly learning and being challenged. I also love the team that I work with- I feel that I am given a lot of trust and am allowed to be independent, which only makes me want to work harder. I also know that if I ever need help with anything they are either a phone call, email, or (6 feet) away.
What is an obstacle that you had to overcome at work?
I would say that the biggest obstacle that I've had to overcome was learning to balance. Balance is seriously everything. I have honestly always thrived while having multiple tasks at once. It's just balancing those tasks that can sometimes be difficult. I've had to learn not to stress- and realize that not everything is going to be done in .0001 seconds.
Tell us a fun fact about yourself!
I like to hang out with my friends, read, yoga, boxing. I like to work. I like shopping. Being outdoors, hiking. Enjoy a lot of recreational activities.