Diesel Direct's Employee Spotlight is a peer-to-peer recognition program that enables our team to acknowledge their coworkers that they feel exemplify our core values everyday by demonstrating qualities such as positive attitude, resourcefulness, excellent customer service, etc.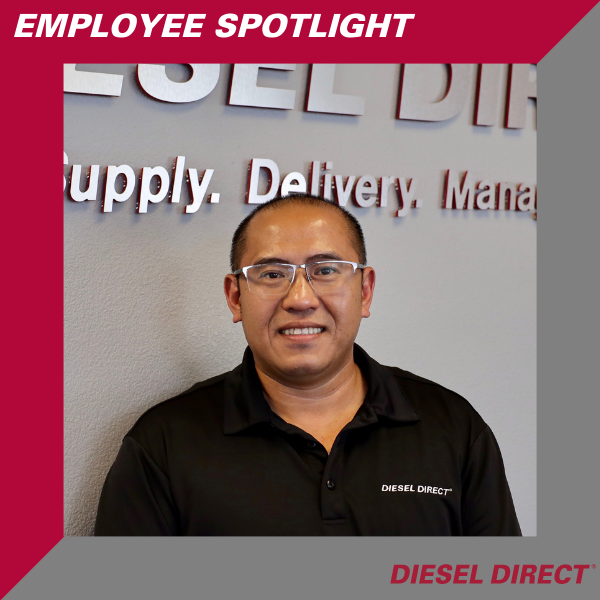 Noriel Magsayo is a Transportation Manager in Stockton, CA. He joined the team in February of 2018. His primary responsibilities includes handling the DEF program and mobile diesel fuel delivery operations in the Stockton CA area. Noriel is the kind of manager who leads by example. He is always looking out for the best interest of the company and creates a positive team environment among his drivers and warehouse staff. He always has a smile and a can-do attitude; we are thrilled to have him as part of our team.
Tell us a little about your role as a Transportation Manager
I manage all the drivers. I'm involved in the designing and upkeeping of the routes. I'm involved heavily in customer service. For example, if there are any issues that would occur with a customer, they can personally reach out to me and I will ensure that matters are taken care of.
What does a typical workday look like for you?
I come in and the very first thing I do is tackle the emails. I spend time interacting with the drivers to make sure that they have everything they need to be successful on their route because that's important me to me—setting them up for success. I provide support. Anything anyone needs, I'm right there.
How would you describe the work culture of your team?
There is great team effort. For example, if there is a family emergency within our team, everyone works together to get the job done and ensure that that person has what they need. People are committed because they're happy here. It's not just about the money that makes it rewarding. It's the people. I work with a lot of great people.
What is your favorite thing about working at Diesel Direct?
Being a team leader, and part of management, because it allows me to help an individual be successful and there is something rewarding about being able to see that person grow. We have a "grow your own" program which is when we give people the opportunity to become CDL by training them from the start. An open opportunity is what makes it worthwhile. I think that's the most rewarding thing: to see someone start in DEF program, start as a class C and work their way up.
What sort of things do you like to do outside of work?
I'm a big family man. Family first. I have four children ranging from the ages of 3 to 17. So, when I'm off, I like to spend all my time with my family.