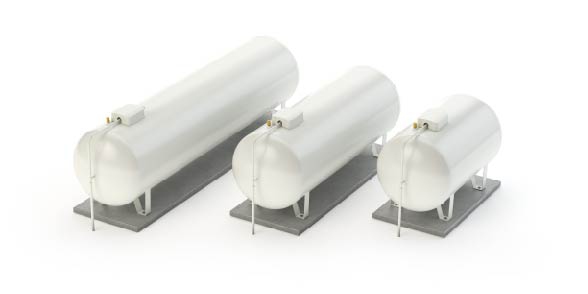 Aboveground Storage Tanks (AST) are safe containers for flammable fluids, like petroleum and hazardous waste, located above ground. They come in a variety of shapes and sizes which make them an ideal option when choosing the best solution to store your fuel. Some benefits to having an aboveground fuel storage tank:
COST
Fuel storage tank solutions can lead to cost savings associated with additional fuel deliveries outside of regularly scheduled visits. Compared to underground storage tanks, ASTs are less expensive to install. Repairing aboveground storage tanks are cheaper than underground ones.
MOBILITY
Aboveground storage tanks are designed for mobility. If you need to move your tank, then this is the more versatile choice
SAFETY
Easier to contain and remedy leakage. With the mindset to be environmentally cognizant, our tanks are double-walled steel structure to protect them from external damage and should a leak happen then it is better to detect then above ground versus under.
VARIETY
Double walled storage tanks are temporary or permanent high-quality tank solutions, both durable and portable are available in a variety of sizes storing up to 50,000 gallons.
Specialty tanks can be custom designed to support specific requirement. They can be solar powered.
Mobile Tank Trailers are environmentally safe, these tanks are an ideal solution for when you need to take your fuel with you without requiring special permits for longer term storage solutions.
Our full range of tank solutions help businesses stay up and running through all sorts of projects, weather and power emergencies.
Why Choose Aboveground Fuel Storage Tanks?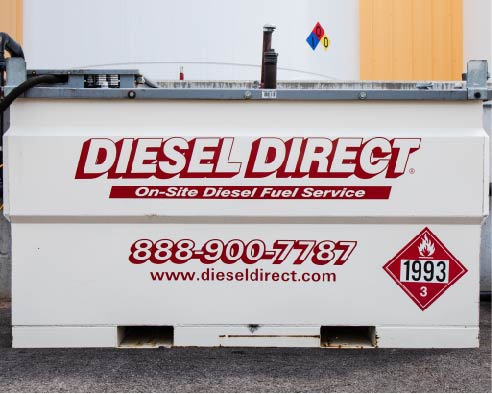 There are many advantages to using aboveground storage tanks, regardless of whether they are used for storing fuel, hazardous waste, or other hazardous materials. AST can provide solutions for storing fuel in a single location for use by multiple assets or backup generator fuel, which provides a variety of applications including commercial, industrial and municipal applications. There are things to consider when choosing the best tank for your business requirement such as cost, mobility, and safety concerns. Diesel Direct has solutions that will meet your needs.
Some examples of practical applications for using a fuel storage tank include:
Shipping company may use a fuel storage tank at an airport to fuel ground support equipment.
Small distribution company may use a fuel storage tank by having their trucks refuel at the on-site tank versus a retail fuel island.
Multi-department first responder organization may use fuel storage tanks dispersed throughout an area to assist with firefighting efforts.
Global diversified company may utilize a tank with multi-compartments to fuel vehicles and assets at a temporary facility, while their own fuel island is being remodeled.
Construction company may store fuel in an above ground tank on their job site to fill the equipment they need to complete the job.
Distribution company may use above ground storage tanks to fuel vehicles that may be on the road during their regularly scheduled mobile fueling service window.
Above ground storage tanks comes in a variety of sizes. This makes them an ideal option for selecting the best option for your specific situation. A Diesel Direct fuel professional can help you decide what size and type might work best for your needs by calling us at 1-888-900-7787 or sending us an email through our contact form. Tank rentals, tank monitoring options, business continuity plans and options to protect your tank from unauthorized use are available to store, protect and prepare your fleet or yard with the fuel you need to get your work done.