Diesel Direct's Employee Spotlight is a peer-to-peer recognition program that enables our team to acknowledge their coworkers that they feel exemplify our core values everyday by demonstrating qualities such as positive attitude, resourcefulness, excellent customer service, etc.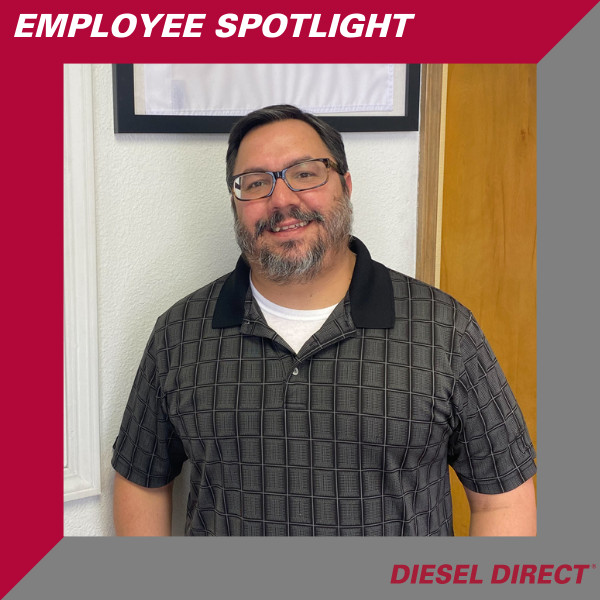 Cesar is an Administrative Assistant at our affiliate company, West Direct Oil in El Paso, Texas. He has been with the company for 13 years. An all-around great person, Cesar is a great asset to the West Direct Oil team. He is always willing to go above and beyond what is expected of him. Cesar is knowledgeable at his job; his efficiency and team-player mentality is what makes helps everything run smoothly.
Tell us a little more about what you do at West Direct Oil
I'm part of the office administration team. A lot of what I do is assist in admin work such as billing, keying in orders, a little bit of everything. I actually started out as a CDL driver before transitioning to the office. I enjoy the office work better though because you get to talk face to face with customers. Coming in from a driver background has always given me good perspective in understanding the needs of the drivers.
What does a typical workday look like for you?
It's all so random. No day is ever the same. That being said, there's always a lot of phone calls, emails, and opportunities to problem solve. I also help a lot with operations.
How would you describe the work culture of your team?
We have a great team, people who have been here for years. There's great management here and I think that's why people stay. We're lucky to have a pretty solid team
What's your favorite aspect about working here? What is most rewarding?
I love being able to interact with customers and helping them with whatever concerns they may have. Since being here, I've seen so many businesses flourish over the years: there was a guy who had initially had a mobile service and now he has like two or three businesses. It's being able to keep our customers stay competitive. Their appreciation is the most rewarding feeling.
What advice would you give to job seekers considering a career path with West Direct Oil, or Diesel Direct?
Have an open mind and be willing to try something new because you never know what could happen. Like I said, I started out as a driver and then was integrated into the office. There are endless opportunities here.