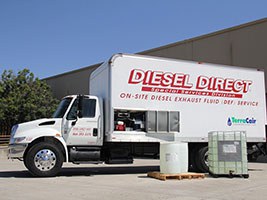 Diesel Exhaust Fluid was introduced with a very specific and positive intention: reduce harmful emissions. Additional efforts toward this purpose continue to grow, for example, recently the Obama administration presented a series of fuel efficiency requirements for trucks with a deadline of March 2016 (read about this on Discover DEF).
As more and more fuel efficiency requirements are put into place to continue reducing emissions, it is clear that products like DEF are going to become a necessity for more and more companies with truck fleets. Additionally, as more and more older trucks are replaced with newer trucks that require DEF (trucks made in 2010 or later require DEF), the demand for the product will rise.
If you are new to using DEF, you should know that correctly fueling and always having the right supply of DEF on hand is not a simple task. Have you considered having Diesel Direct supply and fuel DEF for your vehicles? Let us take care of all your supply, replenishment, and management of DEF with DEF Direct℠. This is why:
SAFETY AND OSHA COMPLIANCE! Our well-trained fuel professionals will remove your risks associated with the fueling of DEF (for example, injuries caused by splash back). Additionally, we will eliminate potential OSHA fines from drums and totes that require special handling by law.
WRONG PRODUCT INSURANCE! Protect your fleet! We offer an insurance policy that covers $10 million in liability and misplaced product coverage.
SPECIALIZED DELIVERY VEHICLES WITH METERED TRANSACTION! We have a DEF delivery fleet dedicated specifically to supplying and fueling Diesel Exhaust Fluid.
FLEXIBLE OPTIONS! Don't run out! In addition to our replenishment program, we also can provide you with DEF in packaged products including totes, drums, and jugs.
COMPLETE DATA MANAGEMENT & INVENTORY CONTROL! We provide computerized data of the delivery including the vehicle number, date, time, and gallons. With our system, you will have automatic access to all critical data relating to DEF.
Are you unclear about how much DEF your vehicles consume? We also provide a DEF Calculator on our website where you can estimate how much DEF you will need on a yearly and monthly basis.
Contact us today to find out more and how you can get started with DEF Direct!