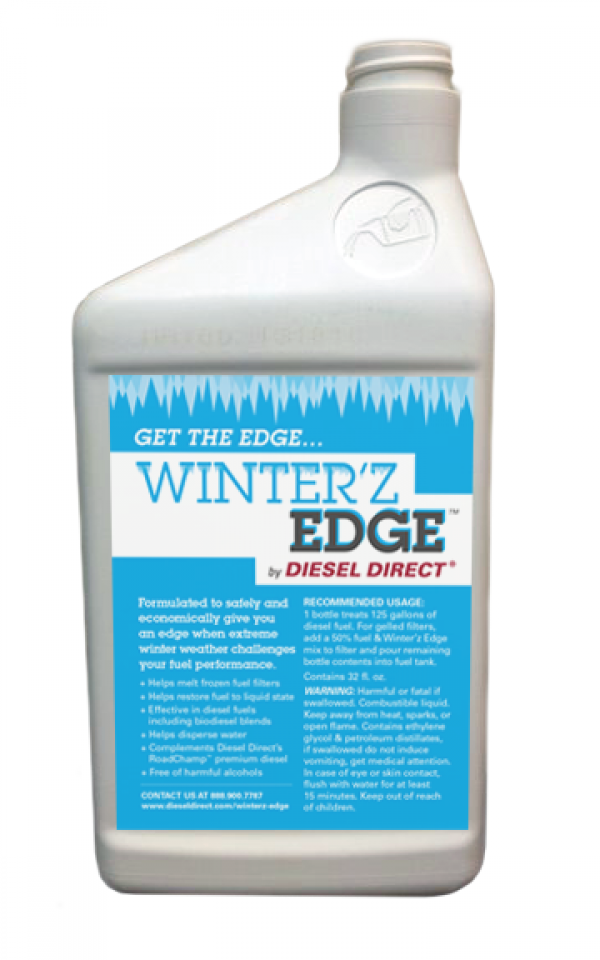 Even though Halloween was only a few days ago and we have almost two more months of fall, the truth is winter weather is just around the corner! Memories of last year's "polar vortex" and the extremely cold winter temperatures most of us had to deal with are still very vivid in our minds. We have to make extra sure our fuel is prepared for cold temperatures. Winter blends and year round fuel additives like RoadChamp are very helpful in protecting our fuel from issues relating to the cold weather, but when the temperatures drop way below normal, it may be necessary to use an additional product to protect it. Our fleet managers are prepared for this winter, are yours?
We want to do everything possible to help you and your fuel avoid complications relating to the cold this winter and that is why we offer an emergency fuel related treatment called Winter'z Edge.
It is a multifunctional product that can be used one of 2 ways:
Before the cold: if extreme cold weather is approaching, it can be poured into your diesel fuel tank
After the cold: can be poured into your diesel tank & filter to help dissolve fuel that has become clouded due to the cold.
Winter'z Edge performance features may include:
Helps melt frozen fuel filters
Helps restore fuel to liquid state
Effective in diesel fuels including biodiesel blends
Helps disperse water
Free of harmful alcohols
The product is formulated to perfectly complement our year round fuel conditioner package RoadChamp. Best of all, it is simple to add to your fuel tank or filters and can used in diesel fuel in trucks, generators, construction equipment, and tanks. Each 32 oz. bottle of Winter'z Edge treats 125 gallons of fuel. Click here to read more about Winter'z Edge and its treat rate or contact our sales team today to learn more about Winter'z Edge.